Make mail merges and integration with external programs a snap!
This powerful utility extracts a "table" of values from a Sesame application. The results can be shown on screen, written to a file, piped to a script that makes a web page, etc.
If you choose to send the results to a file, that file can then be imported into Microsoft Access, Microsoft Excel, or any other program that can import ASCII. The resulting file also makes for an easy mail merge into Microsoft Word, Corel WordPerfect and other word processing programs.
You can specify the desired records, select which values you want and sort the selected records. The results are returned as a semicolon separated list of values for each record.
As a separate program from Sesame Database Manager, this utility is an excellent alternative to ODBC. No drivers, complicated setups or installation issues. Just call Extractor from a batch file or from VBA and you have seamless imports and merges with the Microsoft Office products. Extractor comes with usage examples and sample documents demonstrating some advanced techniques.
For example, this command ...
extractor ses_svr Customers.db m.. Company Company;First;Last;Add1;City;State;ZIP 0 1 1 > address.txt

... produces this text file of the companies beginning with m ...
Company;First;Last;Add1;City;State;ZIP
Manuel and Helm;Bert;Hinkle;971 Wilson;MOORESVILLE;IN;42399
Miami Beach Stone Quarries Inc;Chip;Shields;5010 N.E. 51st Terrace;MIAMI;FL;44364
McCartney and Lemon LLC;Sara;Bartlett;5611 Barnard Drive;LAS VEGAS;NV;85347
MaxCo Electronics;Jean;Feild;100 Goldenrod;CORONA DEL MAR;CA;96268

... which creates this merge letter in Microsoft Word.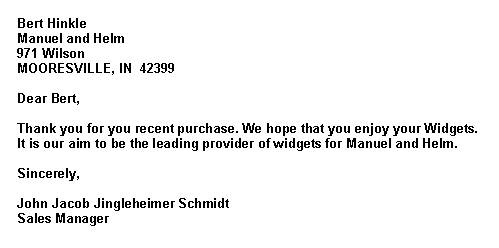 Note: This Utility requires a Sesame server to be running in order to operate. All versions of Sesame can be run as a Server even if you have not purchased additional client licenses. If you are running in a multiuser environment, you may need an additional client license to use these utilities, just as if you wanted to connect another client workstation.