Knowledgebase
Backup An Application
1. In your application, select Backup Application from the Application Menu.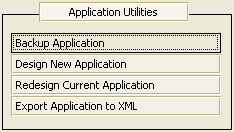 2. A dialog box appears on your screen asking you to enter a filename for the backup file. Enter the filename you want to use and click Accept.
More Information:
Additional information on backing up an application is located on page 428 of the 2.0 Sesame User Guide.