Knowledgebase
Exporting Your Data To A CSV File
1. Open your application and open your form in Search Update mode. Retrieve the records you want to export.
2. If the Spec Window title bar at the bottom left of your screen does not display Export followed by the name of your form, click on the large arrow to the right of the title until Export is the displayed spec.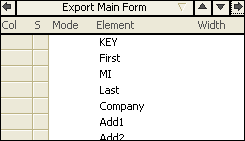 3. In the Spec Window, click the grey box next to the fields that you want to export. An arrow appears in the box to inform you that the field is selected for export. The number displayed next to the arrow indicates the order of the elements you have selected.